Understanding energy efficiency ratings on your Carrier Air conditioner
05.05.2021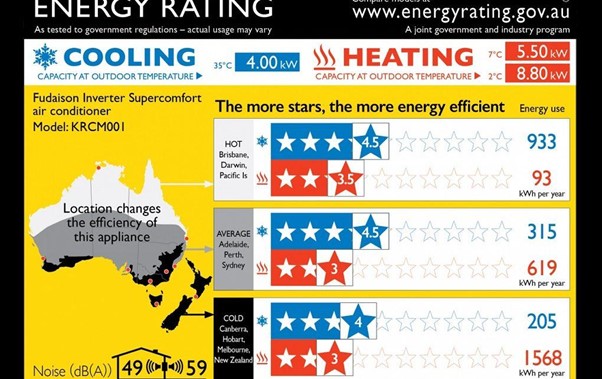 When you buy an air conditioner from April 1 2020 onward, you'll notice a Zoned Energy Rating Label (ZERL) displayed on the unit or in the product information. This label makes it easier for you to compare similar split system air conditioners to give you an idea which is more efficient in your local climate.
These labels can be extremely helpful and informative – but the problem is, they might be a little confusing to read if you're not familiar with them. With that in mind, we've run through everything you need to know about ZERLs to make sure you can understand the energy efficiency ratings on your Carrier Air split system air conditioner.
Zoned Energy Rating Labels explained
The old energy rating labels that you might be familiar with took a simplistic approach to energy efficiency rating. Alongside a capacity output in kWs, they assigned stars to each unit, with more stars meaning better energy efficiency.
They did not take into account the reality that varying climates throughout Australia may affect each air conditioner's efficiency differently.
The new energy ratings, or ZERLs, do take into account local climates by providing air conditioner performance across three climate zones:
Hot: Brisbane, Darwin, Perth.
Average: Adelaide, Perth, Sydney.
Cold: Canberra, Hobart, Melbourne.
For each climate zone, the new ratings also provide energy efficiency ratings out of 10 for both hot and cold climates. The numbers on the right of the stars are the estimated annual energy use for heating and cooling in each climate (expressed in kWh).
Carrier Air Tip: Using the average annual energy use for your climate zone and the price per kWh that you pay for electricity, you can get a rough idea how much any labelled unit will cost you to run per year. (note: the kWh figures on labels are based on average household – your use may vary).
ZERL Energy rating labels: Down to details
There are a few other details to note on the new ZERL energy rating labels. These include:
Noise level: this tells you roughly how loud in decibels the unit will be when running.
Output capacity heating and cooling: there is one capacity rating in kW for cooling and two for heating at different temperatures (1 & 7 degrees). To learn about how much power you need to heat your space, check out our guide.
The most important thing to note on any label is the new and improved star rating. These go from 0-10, with 10 being more efficient and 0 being less. As a general rule, most air conditioners sit at around the 3-5 mark.
How to use the ZERL ratings to compare air conditioners
ZERL energy ratings were created to make it easier to compare the energy efficiency of air conditioners to help enable a more informed purchase.
To use the ZERL rating labels to compare air conditioners:
Select your climate zone.
Check the kWh energy use per year to get an idea for total consumption.
Note the star rating.
Take note of the noise information on the label – this is particularly important if you plan to install the unit in your bedroom to use as you sleep.
It's important to note that larger units may use more energy and have a lower energy rating than smaller systems, so you should only use the ZERL labels to compare units with similiar outputs.
Reading the old energy rating labels
By 2025, all air conditioners must use the new ZERL rating system to label their products, but until then, some products will continue to use the existing labels (example below).
These energy rating labels include less information and are less helpful but they can be easier to read. They include:
A star rating of 0-6 with 6 being more efficient and 0 being less efficient.
A kWh measurement of the average energy consumption (just like the new labels).
They do not have information for different climate zones like the new ZERL ratings do.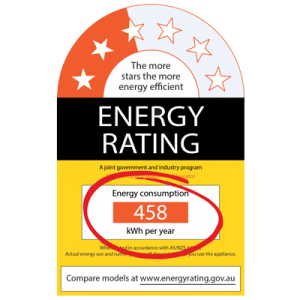 Are you ready to start comparing air conditioners and choose the right unit for your home? For more information on Carrier Air's split system air conditioners, including their energy ratings, click here.