Everything you need to know about Hi-wall split system air filters
20.01.2021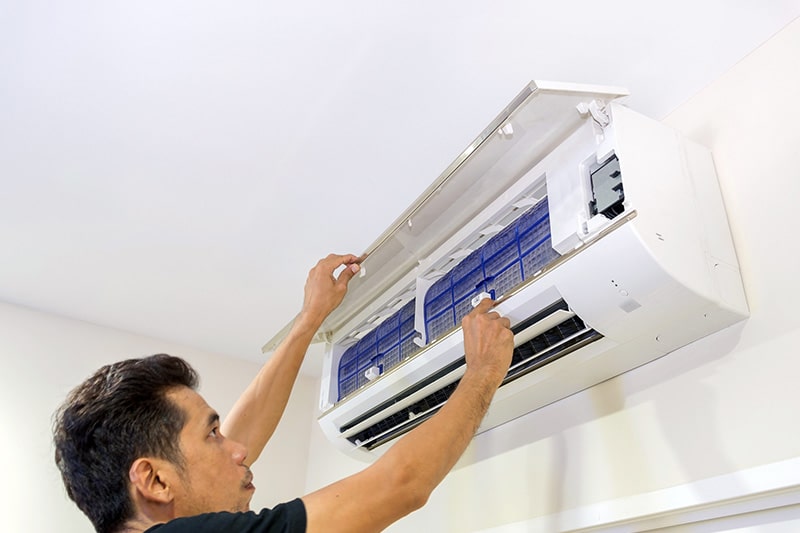 Over 40 per cent of Australians have never cleaned the filters in their hi-wall split system air conditioner, according to survey data from Canstar Blue. Have you?
While an air conditioner with dirty air filters will usually keep running, they may be less effective and will certainly be less efficient. With that in mind, to save you money and make sure you're getting the best out of your aircon, we've taken a closer look at hi-wall split system air filters.
Air filters explained
Most air conditioners feature a mesh filter that cleans the air as it passes through it, catching dirt, dust, pollen and other allergens and pollutants. Carrier Air's hi-wall split system air conditioners actually have double filters and an advanced two-step filtration process.
The first filter keeps out larger particles like pet hair and dust, while the second captures and minimises common household odours and bacteria. The end result is cleaner, healthier air for you and your family.
By design, these little filters slowly fill up with all the dust and debris that passes through them. Eventually, all that stuff will build to a level that partially blocks the air flow through the air conditioner. This means that your unit will need to work harder to produce the same cooling or heating effect, which may cause it to be less effective and/or use more power.
In some cases, if moisture accumulates in your indoor unit, mould can start to build up on the filters and throughout. The air con may then blow the mould around your home, making the air around you unclean and unhealthy.
Cleaning and maintain your air filters
Carrier Air's hi-wall split system air conditioners Allure and Aura Ultimate include self-cleaning technology that reduces the mould from accumulating, giving you one less thing to worry about.
It's almost as easy to keep your filters from getting blocked up as well – all that's required is a quick, regular clean to keep them in good condition. The frequency at which you'll need to clean may vary depending on how dusty your environment is and how often you use your air conditioner.
As a general rule of thumb, it's a good idea to clean the air filters in your home air conditioner every two to four weeks. If you don't use it often, you may be able to get away with cleaning them less frequently.
Cleaning your air filters in all Carrier Air hi-wall split system products is easy – simply pop the front of your unit off, remove the air filters and brush, shake or vacuum any and all debris out of them*. If the dust filters have stubborn dirt or grime trapped in them, you can wash them in warm water with a mild detergent – just make sure you give them time to dry before installing them back in your unit.
*For more detailed instructions on removing your unit's cover and cleaning its air filters, refer to your unit's manual.
Other air conditioner cleaning and maintenance tips
Carrier Air's hi-wall split system air conditioners are designed to require as little maintenance as possible but there are still a few quick things you can do to keep yours running like a dream. That includes:
Activating the SELF CLEAN mode when you remember (once a month is a good rule of thumb).
Wiping down your air conditioner's ducts or vents with a soft damp cloth every 3-6 months. That includes both outside the unit and as far as you can safely reach inside it.
Cleaning the outdoor unit by removing any vegetation or spider webs on its exterior every 6-12 months.
Get your unit professionally cleaned and clean air filters if you notice any drop in performance or efficiency.
Keep doors and windows closed during summer when you're operating your air conditioner.
When's the last time you cleaned your air conditioner's filters? Taking five minutes to take care of yours once a month could save you money and make sure your air conditioner is working at its best. For more tips on getting the most out of your hi-wall split system air conditioner, check out our blog.