A guide to using your hi-wall air conditioner controller
26.03.2021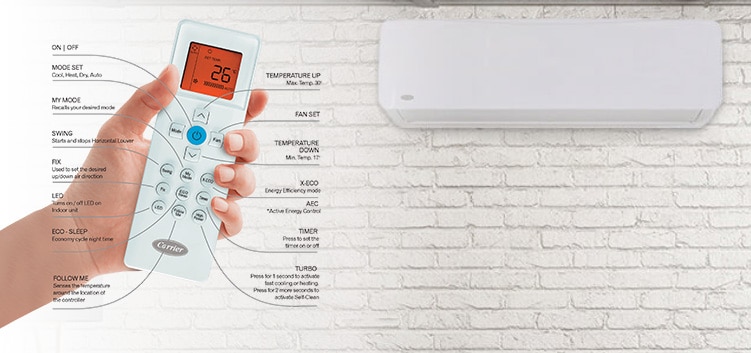 The Carrier Allure and Aura Ultimate hi-wall air conditioners both come with intuitive, easy-to-use controllers. These high tech devices make accessing every feature your air conditioner simple – from turning up the heat, to initiating a self cleaning cycle.
But because of how many features Carrier's range of hi-wall air conditioners, it can take a little learning to get the hang of the controllers. Here's a simple guide to using your hi-wall air conditioner controller.
Taking care of your air conditioner controller
All you need to do to make sure your air conditioner controller works for years to come is:
Store it in a dry place inside your home,
Wipe dust off every now and then using a dry cloth, and,
Change the batteries when the controller stops responding (using the same type of batteries).
Even in the very unlikely event that your remote malfunctions, there's no need to worry – all of Carrier Air's residential air conditioning systems come with a five year warranty.
Learning to use the controller (the basics)
The most important buttons on your Carrier Air Conditioner controller are the four above, below and to either side of the on / off button (the big blue one in the middle).
To increase and decrease temperature, use the arrows above and below the on / off button.
To change the air conditioner's function, use the 'mode' button to the left of the on / off button. This allows you to select whether you want the air conditioner to cool your room, dry it out or heat it.
These four buttons control the core functions of the air conditioner and even if you never touch another button, using just these four will keep you comfortable year round. If you want to get more out of your air conditioner and use all of its high tech features, read on!
Tip: With auto mode, you pick a temperature and the air conditioner automatically adjusts itself to keep the room at that temperature.
Learning to use your controller (useful features)
Every Carrier Air hi-wall air conditioner is designed to be efficient, effective and easy to use. To make sure that's the case, we designed a range of smart features – which you can access using the 9 buttons at the bottom of your controller:
Swing: starts a horizontal louvre which continually changes the direction of the air to better fill the room.
My mode: recalls your favourite air conditioner mode.
X-ECO: Carrier Air's air conditioners are designed to use minimal energy but if you want yours to use even less, just flick the X-ECO button for super efficient operation.
Fix: use this button to set the up / down direction of your air conditioner.
Eco – Sleep: on those balmy summer nights and chilly winter evenings, you might want to leave your air conditioner running while you sleep. The Eco-Sleep mode makes this easier – by quietly and automatically maintaining the same temperature all evening. After eight hours, sleep mode is turned off and the air conditioner continues to work as usual.
Timer: you may want your air conditioner to turn on and warm the house up 20 minutes before you wake up. Or perhaps you want to cool it down before you get home from work. To do this, use the timer button which allows you to automatically turn the air conditioner on / off at a given time.
LED: turns the LED light on your air conditioner on and off.
Follow me: the remotes on both Carrier Air's Aura Ultimate and Allure air conditioners feature a temperature sensor that can be used to set the temperature for the unit. That means that as long as you have the remote controller with you even if you're sitting on the other side of the room or moving around, the air around you will be at your selected temperature.
High power: when you come home from a run or walk in the door on a cold winter's night, sometimes you need to heat up or cool down the room fast. Hold the high power button down for a second and the air conditioner will heat or cool at maximum power to make you comfortable quickly.
The remotes on all Carrier Air conditioners are designed to be functional and easy to use. But if you'd rather use your phone, that's easy too. Just download the Carrier Air smartphone app and you'll be able to control your air conditioner from anywhere with just a tap on your screen.
Learn more about Carrier Air's entire range of air conditioners and find a specialist dealer near you.