5 reasons to choose an Allure Hi-Wall air conditioner
23.03.2021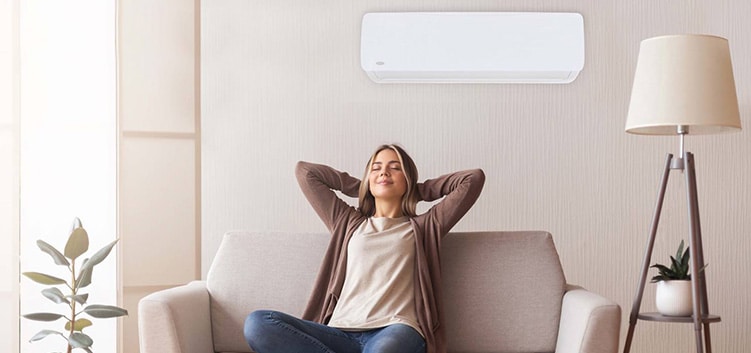 There are so many hi-wall air conditioners to choose from that it can be difficult to know which one is right for you and your home. For most spaces, Carrier Air's Allure Hi-wall air conditioner is a great choice.
This compact unit combines efficiency, luxury and technology to ensure that you're always comfortable – even on sweltering summer days. Here are five reasons to choose the Carrier Air Allure Hi-Wall air con.
1. It's extremely efficient
Efficiency is one of the most important things to look for in your air conditioner. After all, you may leave it running for extended periods of time during summer and winter and your power bill could balloon quickly if your air conditioner is inefficient.
The Allure Hi-Wall air conditioner features inverter technology and other smart tech that ensures it uses as little energy as possible. The 2.6 kW model is particularly efficient, with a 6.5 hot zone energy rating – one of the highest on the market.
Other features that help increase the Allure's efficiency include, an eco-sleep mode which maintains low energy usage while keeping you comfortable and a customisable fan speed (from 0-100% power).
2. You'll be comfortable all year round
Even if you're in the middle of a blazing hot summer in Alice Springs, or a freezing winter in Tasmania – the Allure Hi-Wall air conditioner can keep you comfortable.
In fact, it's built to be effective in temperatures as low as -15 degrees Celsius and as high as 50 degrees celsius.
3. It's smarter than your average air conditioner
Every inch of the Allure Hi-Wall system is engineered for maximum comfort and efficiency, with an abundance of smart features. That includes:
X-ECO mode which reduces fan speeds while maintaining comfort levels to reduce energy use.
Anti-corrosive coating on the outdoor unit so that it lasts and lasts.
Carrier Comfort Connect – a smart app that allows you to control the Allure over Wi-Fi with a tap on your screen. You can also run diagnosis tests through the app to ensure your unit is working correctly.
Follow me mode which senses the temperature around the remote to ensure your comfort.
Four modes including heat, cool, dry and auto. Dry helps keep you comfortable during those muggy, humid summers.
A robust self-cleaning cycle.
Leak detection, which shuts the system down in the unlikely event of a leak to keep you and your family safe.
All these features make the Allure Hi-Wall system easier to use and more efficient, so that you're comfortable year round.
4. Innovative technology means it's better for the environemnt
There's a liquid in your air conditioner that circulates around the system helping to create cool air, turning from liquid to gas and back again. This is called refrigerant. Many people don't know but some types of refrigerants are harmful for the environment and release harmful greenhouse gases. That includes CFCs like R12 and HCFCs like R22.
Carrier Air's Allure units use a refrigerant called R32 or difluoromethane. This substance is much better for the environment and has a 'global warming potential' of around a third of R22.
5. Carrier Air is a brand you can trust
Whenever you purchase a Carrier product, you're buying the benefit of our experience. We've been improving and innovating on that idea since Willis Carrier invented modern air conditioning over a century ago in 1902. Our range of Allure Hi-Wall systems is the result. Thanks to smart design and innovative technology, these air conditioners can keep you and your family comfortable for less.
Download the Allure brochure for our full range of Allure Hi-Wall air conditioners to find out more – or get in touch with a specialist dealer near you to purchase.